opublikowano: 24-05-2011
Orzeł wiszący na gwieździe Dawida, czyli jak się bawią Żydzi w Warszawie
To miała być polityczna prowokacja: około 200 statystów poprzebieranych za żydowski ruch oporu Anno Domini 2010 przemaszerowało po warszawskim Starym Mieście domagając się zaprzestania wybijania izraelitów, czyli porzucenia przez Polaków tradycyjnych zabaw ludowych. Demonstrantów ochraniali oczywiście antyterroryści – tez zresztą poprzebierani statyści filmowi. A to wszystko na okoliczność filmowego "paradokumentalnego dzieła" o życiu i wyimaginowanej śmierci Sławomira Sierakowskiego, redaktora neokomunistycznego pisma "Krytyka Polityczna". Dodatkiem do owych występów stała się instalacja na Placu Piłsudskiego, z powiewającymi na masztach flagami z powieszonym na gwieździe Dawida orłem w koronie i ogromnym popiersiem wymienionego wyżej Sierakowskiego.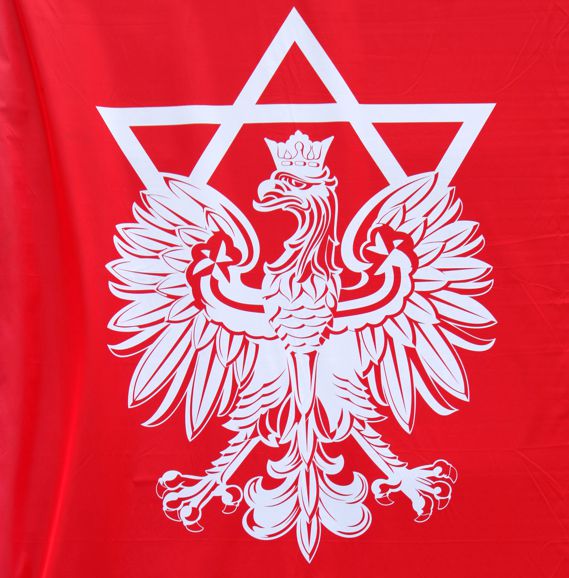 Można by popukać się w głowę i pokpić z wyjątkowego narcyzmu młodych gniewnych komunistów, gdyby nie to, że po pierwsze nie są już tacy młodzi, a po drugie ten ich gniew objawia się wyłącznie za pieniądze Polaków – przeciwko Polakom.
Filmik jest bowiem produkcją polsko-izraelska, przy czym wkład polski to: pieniądze (budżetowe z Ministerstwa Kultury i Muzeum Zachęta), operatorzy kamer, statyści (w tym kilku aktorów) i koszty prezentacji na Festiwalu filmowym w Wenecji (w pawilonie.. polskim). Rola Żydów "ogranicza się" do koncepcji, reżyserii i scenariusza. Czyli po raz kolejny za nasze pieniądze finansowany jest paszkwil na Polskę, który w dodatku prezentowany będzie jako produkt kultury polskiej.
Nie pierwszy to raz rząd Platformy Obywatelskiej opłaca się młodym komunistom z "Krytyki Politycznej" za rozpiżdżanie ideowej konkurencji z SLD. Znany jest szerokiej publiczności fakt finansowania organu politycznego tego środowiska przez ministerstwo.. kultury, mniej, że swego czasu polityczna korupcja posunęła się do tego, że krakowski (budżetowy) Instytut Książki sfinansował ze środków na rozwój kultury regionalnej niewątpliwie wiele wnoszącą do rozwoju kultury lokalnej książkę pod wymownym tytułem: "Przewodnik po "Krytyce Politycznej".
Tak więc wszystko w Polsce po staremu: rządy są polskie z nazwy, zaś niewątpliwie polskie pieniądze są przeznaczane na walkę z Polakami.

Polecam sprawy poruszane w działach:

SĄDY
PROKURATURA
ADWOKATURA

POLITYKA
PRAWO
INTERWENCJE - sprawy czytelników